The most time spent during my experiments, by far, was with inks or paints (I'm using these terms interchangeably). I wanted inks that met the following criteria:
Lightfast
Consistent in pigmentation
Resistant to spreading on paper
Free of VOCs and toxic pigments such as cadmium
Blendable for adding transparency or making custom colors
Slow-drying (to keep the stencil workable and crisp)
Reasonably affordable
Easy clean-up
I experimented with oil- and water-based paints, including screenprinting ink, block printing ink, gouache, watercolor, intaglio ink, acrylic paint, oil paint, alcohol ink, and calligraphy ink. Straight out of the tube, the best results were with water-based screenprinting ink and Golden Open Acrylic, a slow-drying acrylic paint designed to have a long open time like oil paint. However, both inks have a tendency to get a little goopy.
During my tests, the main contributors to poor print quality were bleeding, smudging, fading, wrinkling, and master degradation, caused by the following ink qualities:
Bleeding: Ink is too thin
Smudging: Ink is too thick or too slow-drying (e.g., oil paint)
Fading: Ink is too fast-drying, causing it to dry into the master (e.g., gouache, acrylic paint)
Wrinkling: Ink is too wet, causing the master to sag and pool with ink
Degradation: Ink is too dry, causing friction against the master and spotty printing
Eventually, I found the silver-bullet ingredient that helped with all these issues: nori, or rice-flour paste. I learned about this from Stampalofi, and adding it to my inks dramatically improved my results. (This also extended the inks significantly, making printing more economical, too!)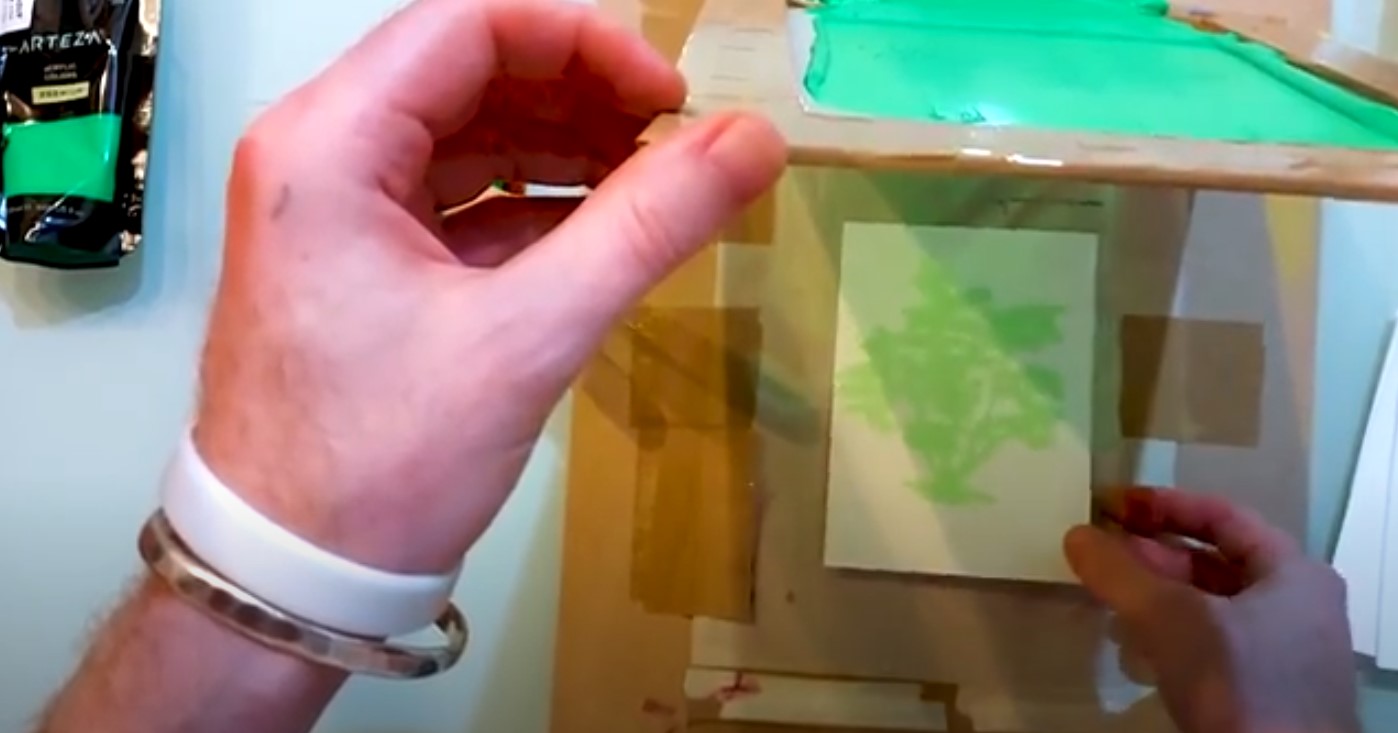 Upon further research, I learned that nori has been used for hundreds of years in paper-stencil crafts such as katazome fabric printing as an adhesive, ink additive, and resist paste due to its ability to create a stiff film without wrinkling or soaking delicate paper.
Did you ever make "ooblek," a mixture of water and cornstarch, in chemistry class? Ooblek is a non-Newtonian fluid that stiffens under nominal pressure, making it fun to squish in your hands. Screenprinting inks have an ooblek-like additive to improve their performance when pressed by squeegee. Nori lends this same benefit, imparting an ineffible "more wet yet more dry" quality that other paints lack.
To make nori, add 10 grams of rice flour to 2 ounces of water and stir. Add that to another 2 oz. of water simmering on the stovetop. Stir constantly with a silicone spatula until it's thickened a bit. Scraping the spatula along the bottom of the pot should cause the mixture to fill back in just a bit more slowly than a liquid would. Pour the nori into a bowl, leave it to cool, and use within 24 hours. Once cool, it should have a pudding-like consistency. This will need to be thinned later, but it's better to start with a thicker paste and thin it in small portions as you use it.
Pre-made nori can be purchased at art supply shops, and while it has the benefit of added preservatives, I got better results with the homemade variety, which is of course more affordable as well.
Getting the right proportion of nori, ink, and water is a little bit of a dark art, but I'll do my best to describe my approach: For a brush-on technique, the ideal paint consistency is that of a brush-on marinade or thin sauce. It's thinner than ketchup and liquid enough to glide with a silky feel when spread by a paintbrush. When collected on a paintbrush, the ink should not drip from the bristles but should just barely hang on.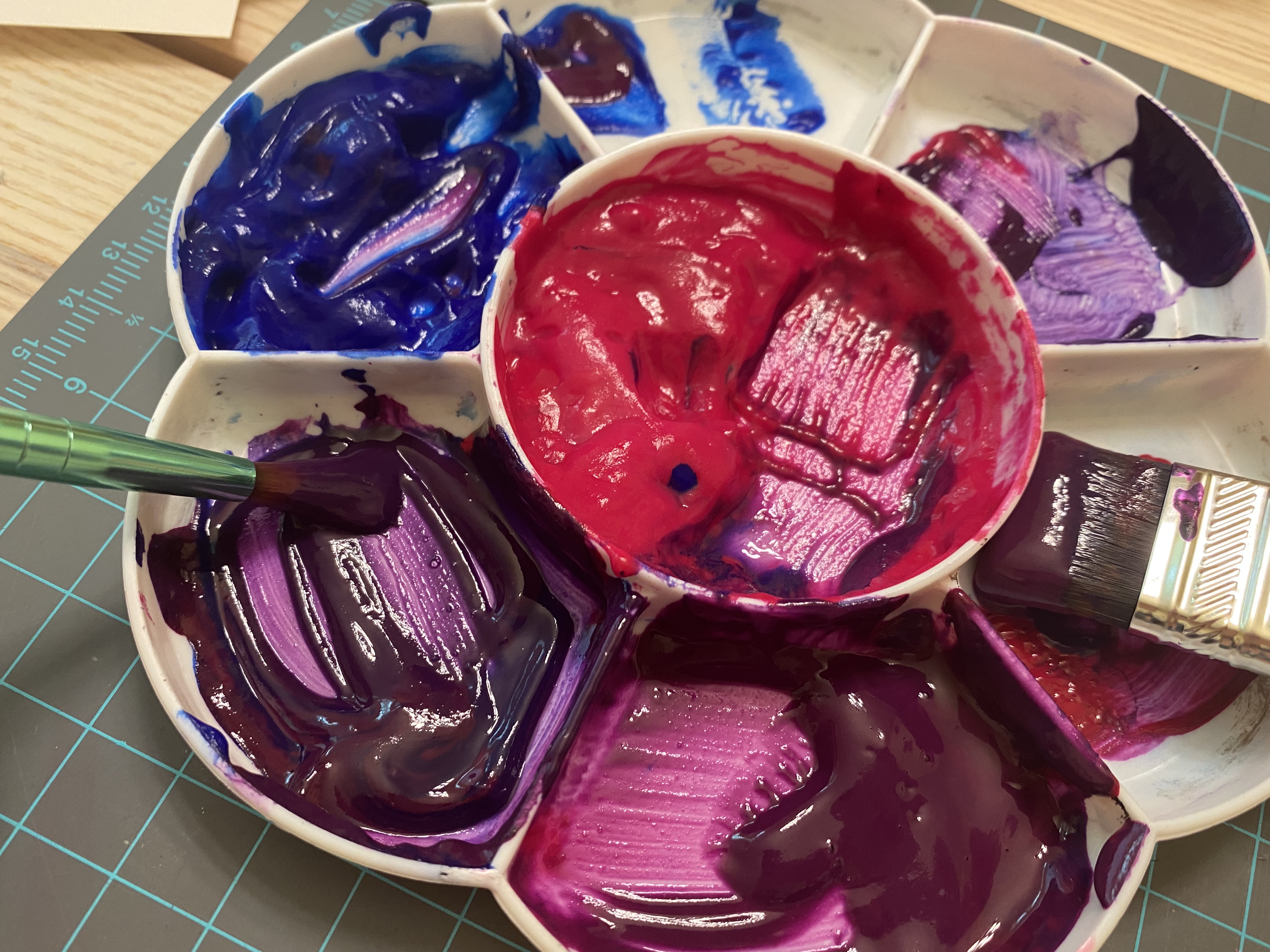 My best results have been acheived by mixing thinned nori with either Golden Open Acrylic, calligraphy ink, or a mix of the two. Calligraphy ink is more economical since little is needed, and it is offered in fully non-toxic organic-pigment ranges such as Dr. Ph. Martin's Bombay Ink. Student-grade bottled sumi ink is both affordable and an excellent additive for darkening colors. Golden Open Acrylic is more of a specialty paint, and care should be taken to choose colors that don't include heavy-metal pigments. However, it offers rich color and has a long working time, meaning there's little risk of ink drying in the stencil. Retarder additives used in screenprinting may be useful for this application, but I have not tried those yet.